The love-fest continues!
JennyMac, mentioned a couple posts ago when I passed on the friendship award to her, has an award of her own to hand out that I'm a very lucky recipient of, and she's also passing another one as well! Colour me honoured!
The first award is JennyMac's own creation: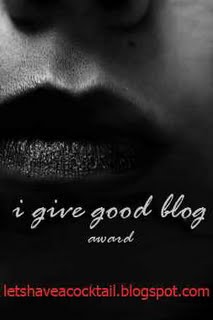 And with this I am compelled to create a cocktail, and invite 4 bloggy friends to the party:
First, the cocktail. I am very partial to the Chocolate Martini made with Godiva Chocolate liqueur, and it is made thusly:
1 1/2 shots Godiva® chocolate liqueur
1 1/2 shots creme de cacao
1/2 shot vodka
2 1/2 shots half-and-half

Mix all ingredients in a shaker with ice, shake and pour into a chilled cocktail glass.
I invite every reader of mine to the party, but since I'm supposed to only pick 4, lets see if I can pick some folks that I feel would really enjoy this the most:
1. Saucy – the first person I thought about when I heard the word "Cocktail". Saucy is all about cocktails and decadence, and I am willing to wager she'll be whipping up a batch of "Saucy-tinis" for this award pass-along.
2. Phd in Yogurtry – A single glimpse into the fascinating mind of this psychologist will have you hooked in a hurry. It's not what you'd expect… ;) Sometimes I really want to pass Doc a cocktail through the ether!
3. Stephanie ("Bad Mom") – not really a bad mom at all. In fact, I'd venture to guess it's the polar opposite, and besides that she appears to be a superior teacher too! Past that, I would venture to guess that a cocktail like this would be right up her alley.
4. Jade @ No Longer 25 – this globetrotting gal has great tales to tell, and can always be counted on to haiku her heart out. Our party would be a hoot with her Scottish accent and new addiction to my favourite concoction.
Award #2 is the "Honest Scrap" award: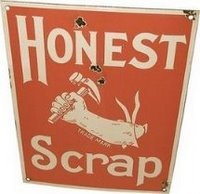 This award begs the exposure of 10 deep dark secrets things about me that you probably didn't know. Actually, the official rules are:
*Say thank you and give a link to the presenter of the award (Thanks JennyMac!)
*Share "10 Honest Things" about myself (below, hang onto your hat)
*Present the award to 10 other bloggers whose blogs I find brilliant in content and/or design or to those who have encouraged me (also below)
*Be sure to tell the 10 bloggers chosen that you are giving them the Honest Scrap award and provide the guidelines for them (Yeah I'll get to that after I put Wee One to bed)
Alrighty, here are the 10 things you never wanted to know:
1. I loathe country music. I'd honestly rather listen to a dentist's drill than suffer through anything that twangs.
2. I sing in 2 fabulous groups – one full choir, and one amazing quartet. The quartet has come to mean a lot more to me! Singing has given my life even more meaning and passion.
3. I have trouble sleeping, and it all began the day I became pregnant with the Teen. (fortunately it was many years before she actually BECAME the teen…). Sometimes I lay awake for hours. Drives me nuts.
4. My name is Jenn, and I am was once a Diet Coke addict. That is, until I started losing my memory (very scary) and it ate the lining of my stomach. I haven't had a drop in 7 years, and I won't buy or let my kids eat anything with aspartame in it. If folks would just read the research on it, they wouldn't either!
5. My little brother is a little afraid of the dark to this day (he turned 40 this year) because I used to sneak outside at night and scrape my nails or a tree branch on his bedroom window. I called it "THE CLAW". He'll deny this of course, but I am pretty sure he used to sleep with his stuffed Snoopy for the same reason until he was in his late teens.
6. About 26 years ago I fell down the side of Fortress Mountain in the Rockies and knocked myself cold with one of my skis. I was alone because I'd taken a different slope than the person I was with. Somehow I made it back to the lodge on my own without freezing to death, but I pulled so many muscles I couldn't walk for 3 days. I haven't put a set of skis on again since, and I have no intention of ever doing so!
7. I hate mundane day to day cooking, and the need to ingest food to survive. You'd never know it to look at me though! I often forget to eat, and find myself shaking like a leaf by mid-afternoon. I LOVE cooking special meals that take real planning though.
8. I take on too much, too often. I work well under pressure, but sometimes I take on so much it's practically impossible to get through it, and then I'm stressed beyond belief. Time management is a skill I still haven't mastered.
9. Since my earliest days I have been a rock-hound. I have a huge collection of rocks from around the world. Wee One is just like me :)
10. I love working with my hands, whether its drawing, hand carving, building things, needlework, or writing. Busy hands are happy hands.
Phew, that was tough!
And the 10 people I pass this award along to are as follows:
1. Melissa B.
2. Tortuga
3. Jessica @ Mental Vomit
4. Liz in Virginia
5. Melli
6. Quilly
7. Evil Shannanigans
8. Becca
9. tmc @ Return to Rural
10. Speaking of Simplicity