I didn't realize how long it had been since I posted until I was coming in to do some routine maintenance and updating. Yikes!
Lots of changes to my life, and a lot that hasn't changed a bit. The Teen and Wee One need new names since neither applies any longer. They will be 21 and 11 respectively this year. I shall call them Thing One and Thing Two… no no Daughter the First, and Surprise! No no no… D1 and D2. Until I come up with better monikers, anyway.
D1 is currently in Punta Cana with her BFF enjoying a well-deserved vacation before real life begins. She is finished school now, you see, and is about to set her own course. Proud of her, and scared crapless, I am.
D2 is doing great in school, made a bunch of great friends, and of course you know what that means… we're moving.
I don't know where or when yet, but I can't stay in this house another year. We have the neighbours from HELL – otherwise known as the "NFH" by everyone who knows us, or who knows them. Not all renters are bad, don't get me wrong, but when you get doozies, you get doozies. I am sick and tired of having to call the police because of the noise and stupidity that happens on a regular basis. We actually had to put video surveillance cameras on our house because their friends were urinating on our cars! Most of that stopped when they noticed the camera (they only know about the one I think) but the constant parties are more than I can stand.
So we're going to paint and make the place irresistible, and then we're outta here.
I've wanted a bunch of things done around here, but The Hubby hasn't had any desire much time to do them. A week ago I decided we were going to paint and do wainscoting on the main floor and up the stairs. Hubby needs to "see" things, I realized, so…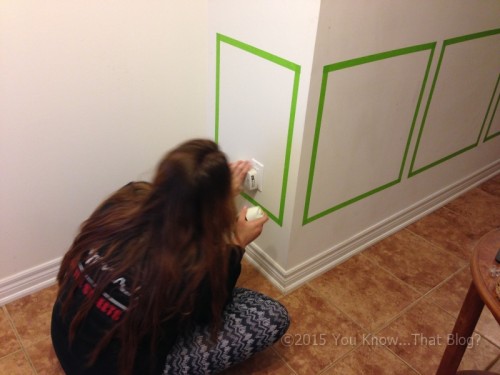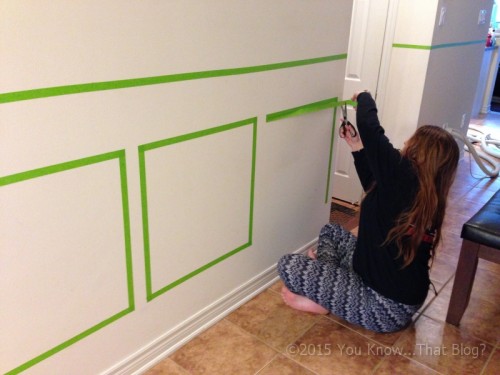 D1 was kind enough to help out with my shenanigans. Hubby was a little shocked when he came home, but he agrees that it looks great, and he'll get to it. Eventually. No, it has to be ASAP because we're MOVING, ok? It will increase the value of our house, dear!
I also want the second walk-in closet in the master bedroom done, and we need to do some landscaping. Sadie is still with us, and killing all the grass since she doesn't like to pee in exactly the same place twice apparently, and yelling is pointless because she has decided she's completely deaf now and doesn't need to listen (although she can hear the food container being moved from the other side of the house still). She's still crafty though, and avoids even looking my way for a hand signal until she's ready to come in. The old girl was 15 in January. She is still incontinent, so our floors are super-clean because we have to wash them – well, her traffic area anyway, which is under the kitchen table and in many sniffing circle pathways throughout the main floor – several times a day as she wanders around. We gave up on diapers – they're more trouble than they're worth – so we have a rotating set of blankets for her to lay on in her spot in the living room, and we do laundry daily too.
J-B is doing great too – he and his wife have been traveling extensively so I hardly get to see him some months. They also just found out they're going to be grandparents in a few months! We have expected this news for a while, but it's fun to see him grinning like the Cheshire cat. He's going to be an amazing Grandpa!
The Hubby and I celebrate 24 years in June, and we're planning a big trip for our 25th next year. Likely a 2 week cruise somewhere – haven't decided yet. It will be my folks' 50th anniversary that same month, so they're going to come with us and we'll have a big celebration at sea. Or wherever we end up going. I choose to believe that will happen, even though we got some incredibly terrifying news this week. I don't even want to talk about it, because losing my mother is something that I just don't want to deal with for decades. I choose to believe that she's going to be ok, and with us for a very long time.
There's probably a hundred other things I haven't thought of while sitting here catching up, but I can chat about them later I guess.
How are things with you?