"What!? Jenn posted! And it's not a haiku!"
Yeah, I know. I've been posting nothing but haiku for the longest time, with one or two weak posts mixed in just because I felt so guilty that I wasn't "keeping up my end" of things as a blogger. Ok, "guilty" may be too strong a word. I don't actually have any of those bones in this here bod. Although if it's a really HEAVY bone, maybe I do, and that would explain a few things! Ha, no such luck. *sigh*
Hey, did you know I have followers I didn't even know about??? Well, if you are one, I guess you did. Silly question. One of them even haiku-ed last week – Hi Jennifer at Mommy Y!! Thanks for letting me know! Gave me quite the warm fuzzy to know people out there actually care what I have to say. I do apologize to you, however, for the lack of interesting posts (haiku not included, natch) this last while.
So what's new? Well, we've been pushed back with our new house. Again. This isn't the first time. Or the second. It's the third. Our firm closure date was to be August 9th, and we just received our push notice of an additional 6 weeks, pushing us to September 20th. I'm soooo fed up. This whole experience has soured us on ever buying a new build again. Oh sure, we know that the final build will be spectacular, but this whole process has been a nightmare so far, and having to deal with "Silvia" at Decor/Head Office has been nothing short of hell. On wheels.
The single bright light is that we're now pushed into the "compensation" period, where they must pay us a substantial amount per day after the firm closure date, until we have the key in hand. That bright light is wavering though; there's a cap on that compensation, and if they reach it, what further motivation will they have to get it done as soon as they can? This is my big concern. Our lives are essentially on hold until we can get in there and make it a home. Waiting? Not a fan. In fact, one of the worst things you can do to me is make me wait. We bought this place a year ago FEBRUARY, expecting to be in before Christmas 2011. We were told that we'd most likely be delayed a smidge, so we had it in our heads that we'd be in by April, but that didn't happen either. Now the so-called "firm" date is going to come and go… argh! Seriously? Well, they certainly won't be earning the "Builder of the Year" title again this year. I can't even get in to take pictures anymore, because they have 24/7 security on site now.
Know what the worst part of this is? Besides being in limbo for so long, that is. It's quelling the urge to SHOP. I have so many decor ideas, and I keep seeing so many wonderful things that would be PERFECT (in my head, anyway), but I can't buy any of it because it's still months to go before we're in. Ok, alright, fine, I admit I've got a growing pile of boxes in my hallway that I've been accumulating. My point is that it could be a substantially bigger pile, but I'm holding myself in check. If you've been around a while, you know that just doesn't work for very long. There's a pressure building, and something's got to give… and soon.
What will go first? Bank account or sanity?
Oh, I've also taken up a new sport. It's called "Water Cannon the Chipmunk". A sport the whole family can enjoy!
Have I expressed just how much I loathe chipmunks? Yes, I have. Well guess what? The little buggers have quadrupled since last summer, and now they're taking over the rest of the property, and seem to enjoy sitting in the Serviceberry trees outside my home office where they can watch me through the window as they drive me insane with their incessant chirping. The dog and cat? They sit and watch them walk by – sometimes within a foot of them. So I've taken to jumping up and darting out the door when I hear one chirp for longer than 10 seconds. I grab the hose that I have set up right by the door. The hose is left on at its maximum pressure setting. At the end of the hose is a fabulous power nozzle fitting that packs a wollop. Go ahead. Chirp. I dare you.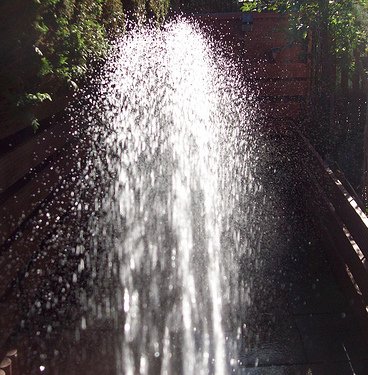 The Hubby sat and watched – in hysterics – as I knocked one particularly cheeky chipmunk right off a branch yesterday. I wish he'd got it on video, but he was too busy laughing.
It appears to be working, and I'm proving that it is possible to train a chipmunk population. At the very least, I've got a whole set of neurotic, nervous creatures living within range of my wrath hose.
Silence is Golden.