A while ago I decided that 2010 was going to be MY year. I was tired of having what I needed or wanted being on the back burner pretty much in all cases and in every way.
Of course, when you have small kids, that is pretty much how it has to be, right? The kids come first, and making them the best they can be is priority numero uno. I don't have a problem with that, really – my kids do come first, and I cannot imagine a scenario where I wouldn't give up my life for either of them, without a second thought. My husband and I have been fairly equal in our relationship over the past 20 years, neither of us really stepping on the other one too much. That doesn't sound too utterly wonderful though, does it! Don't get me wrong; we love each other, have a strong bond, and a history that cannot be denied. We have had some wonderful experiences together. Has it changed since the early uber passionate days of yore tho? Sure. We're not the same people we were back then. We've earned many a silver (me) or white (him) hair along the way, and developed some pretty deep laugh lines too! But yes, things have changed.
If I were a man, people would be nodding and whispering "Midlife Crisis" behind my back, fully expecting me to run out and purchase a cherry red sports car and start leering at young chippies on the street. But I'm not. A man, I mean. And chippies don't do much for me either ;)
I don't like the term "Midlife Crisis". While whats happening is definitely at "mid life", I'm not so much in crisis as I am unsatisfied with the way I'm living my life. I don't want to do this for another 43 years. To that end, a few months ago I decided that 2010 was the year I'd reinvent myself. Jenn v2.0 is in full development.
Guess what? You've been along for the ride without even knowing it! Remember when I had my eyes done? That was Step One. Unfortunately, I've come to the conclusion 2 months later that I made a huge, life-altering mistake with that, since I still can't see worth a damn, and what I could see before (close up, like… working on the computer and doing anything tiny) I can't see now. I have my 2 month appointment with Lasik MD next week, and boy are they going to get an earful.
I digress.
My group came about long before I made the declaration of this being "my year", but in some ways they have been the catalyst for change. I never expected to fall in love with the three of them, or have their presence in my life make such a dramatic difference. That this happened certainly has changed things, and it has changed me. I'm a better person because of them, and a much, much happier one. I owe them big time.
Realizing I was in a rut, I've made some decisions. I've changed my style, I've changed my hair, and I've changed my attitude. I'm working very hard on getting healthier. I've come out of hibernation. I was vibrant and exciting once, and come hell or high water, I will be again.
Priorities need to change. Purging needs to occur. Out with the old, in with the new. There are many things left to be done before v2.0 is a done-deal, but I feel that I'm on the right path. Things that include reconnecting with the Hubby as we begin the second half of our lives, and setting the kids on their own proper path as well. The Teen has been reinventing herself too, as Teens are wont to do. She's a great kid all told, and the things that need work will fall into line as she comes to realize how important they are for her future. Wee One will have lots of experience to draw on as she follows her own path as well, and I have no worries where she is concerned. In a way, Jenn v2.0 is dragging my family and friends along whether they know it or not. Things are changing.
This sounds like a wrap-up to something, doesn't it?! I don't mean for it to be though, unless you count my old life, living in the rut. That chapter is definitely done.
We're setting off on an adventure; you and I. Like all great adventures, it has no set destination, no worn path, and there are no rules. Well, perhaps one. I will be true to myself.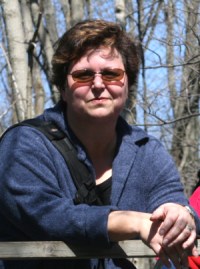 Me; picture by J-B
Stick around; could be a wild ride…