There will always be things you don't know about me… but I'll share a fun secret with you today.
The Teen and I love shooting things.
It's true. Are you shocked?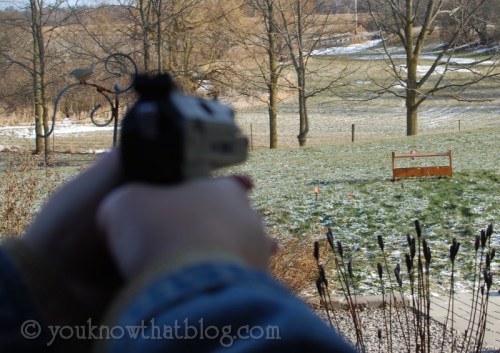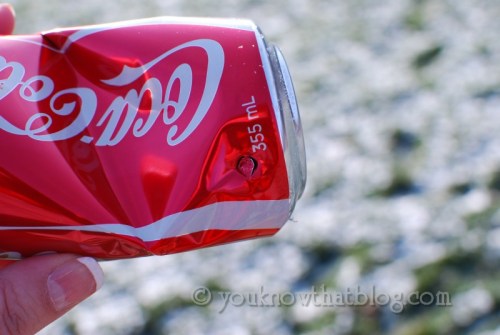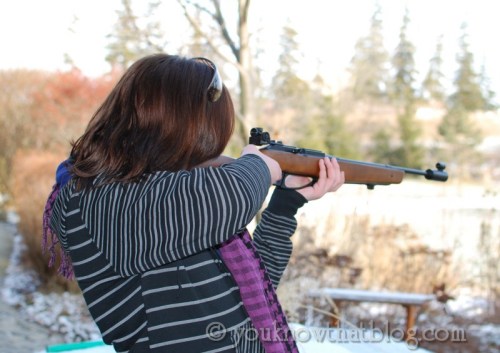 We spent a fun but frigid morning shooting cans and targets in the back yard while the Hubbie watched from the office window and stayed toasty warm.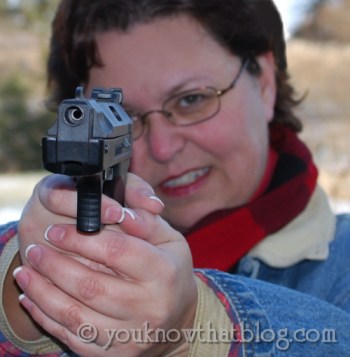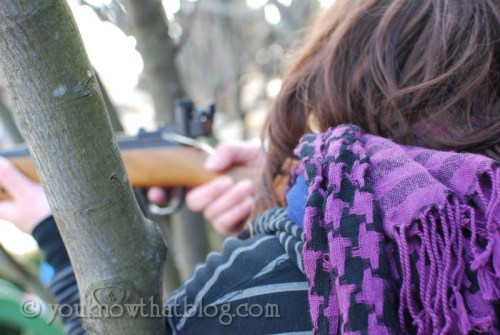 By the end of it my fingers were so cold I had no feeling left in them, and it was time to head inside.
The rifle is hers, and the pistol is mine. They are both under 500FPS (feet per second) air guns.
We were invited for a tour of the Toronto Police Emergency Task Force's (ETF) HQ a couple years ago, around the beginning of The Teen's career with shooting. Have I mentioned that she's captain of her range team for her Sea Cadet Corps?
The Teen (then 13) amazed them with her abilities. She fired a .22 Air King, a C8 Sniper rifle (wow that was amazing and here's that target – see why they were impressed?), an MP5 submachine gun and a Glock 9mm. The Air King and C8 she was amazing with. The MP5 was a little scary for her – not only was it a lot of firepower, but she was also standing rather than sitting or prone, and that was new for her. The Glock was also a little bit big for her hand so she didn't do quite as well with it. Fit mine nicely though, and it was agreed that her talent was inherited, which was quite the ego boost for me!
I think they were most impressed with how cool and calm she was through the whole process. Nothing phased her.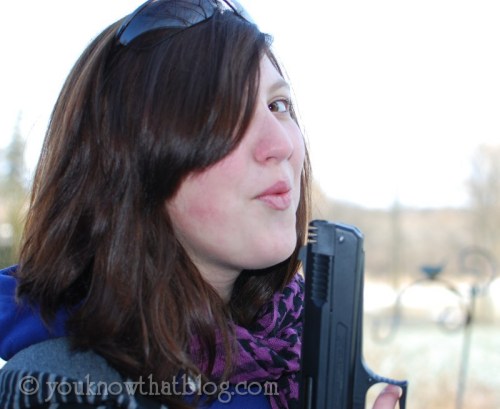 Their top marksman is a female, and she was there to give us some coaching. She said The Teen was better than she was at her age, and she's been shooting since she was 7 years old (an army brat). It was a phenomenal experience for us – but especially for The Teen.
I'm not a gun-fanatic. I think the NRA/GOA and it's counterparts the world over are chock-full of complete bone heads, mixed in with extremely good, level headed people. In my opinion, not everyone should have the "right to bear arms", and the process to owning anything past a pellet or air gun should involve an in-depth psych profile.
Even though they're air powered, our firearms get locked up when not in use, and the ammo and targets are stored elsewhere. I believe our kids are safer if they have some gun training, and know how to operate hand guns and rifles safely. Wee One is still nervous of them right now, which is fine. When she's old enough, she'll have the same opportunities that her big sister has had. Hopefully that will also include karate, although Wee One has adamantly refused to participate in this so far. This is what I want for my children though. Self assurance. Calm in the face of adversity. The ability to protect themselves.
I like that the Teen is becoming a capable, self assured young woman. Scratch that… I LOVE it.