I don't have a sponsor. I just like that line ;)
It's been a while since I posted anything that was just about ME. Mostly it's because… well, while I do adore talking (and writing) and sometimes I wonder if it's just to see/hear myself do it, I don't talk about myself all that much. Probably a good thing, since you'd all get very bored and never visit me again. That said, this one post will be a bit of a ramble about me, so if you're interested, grab a coffee and settle in. If not, I have a fabulous list of blogs in my previous post – I highly recommend each and every one.
The last few months since I started blogging again have been both terrible and great. I get such joy from writing and creating. It's therapeutic to be able to put your thoughts down digitally or on paper, working out frustrations, worries, joys. I kept a journal throughout Jr. and Sr. high school, college, and into the early years of marriage before kids came along and life got in the way. I remember laying in bed writing pages and pages on the things going on in my life, wanting to capture every nuance, and knowing that as I wrote, I'd be able to figure out how I wanted to deal with a problem, or approach something new. It definitely probably kept me from murdering my bratty little brother in his sleep doing a few things that crossed my mind more than once. Blogging is certainly a more public way of doing the same thing. I've enjoyed sharing ideas and events, and have made some truly diverse and interesting friends recently!
You might be wondering what I meant by terrible though… I have a bit of an OCD where things that I love are concerned. Being overweight fluffy and having a few health concerns (PCOS, Hypothyroidism, high Cholesterol [all very much related to being fluffy], and a few other minor issues) means I should be far more active than I am. I've chosen career paths that mean I spend long hours sitting in this chair here though, ostensibly so I could be home with my kids as they grew up, whilst still bringing in a paycheque ("check", for my Merkin friends!). While I know full well I'm hurting myself by doing so, I can't seem to help it. Work must be done, and oh yeah, Facebook and the Blog can be done at the same time! "Wow, it's midnight already?"
So while I do work 12+ hour days more often than not, it's really only my fingers and my eyes that get a solid workout on a regular basis. Blogging has not helped that out at all, even though I have loved every solid minute of it!
I know what I need to do, it's just a matter of getting off my butt to do it. Other women have no trouble getting in lots of exercise, so why can't I?? I've been a member of the Goodlife gym for 8 years now! They haven't seen me in about 4 years a while though.
Past the fact that I will never, ever be seen in a bikini again, and I'm ok with that, I really think I just need to get active to be healthy. With this birthday anniversary looming over me next week, it only drives home that I'm no longer in the blush of youth, and time isn't going to wait for me. My kids deserve a healthy mom who cares enough about herself to work at enjoying "real life" with them.
So look what this random, rambling rant has done! I do believe I've decided to finally jump into action and get off this chair more often. The summer time makes it easier, definitely – play dates to keep the Wee One entertained mean that I'll be chasing after her and her friends with my camera glued to my face.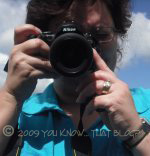 I did buy an annual pass to the Toronto Zoo – one of the most fabulous zoos on the planet. Can't be sedentary there – the place is massive. I think I'll head out and get an annual pass to the provincial parks in our area too – they have some of the most gorgeous hiking trails and beaches in Ontario.
I'm going to need your help and encouragement to get off this chair more often though. It's like training a dog, really. The more positive reinforcement I get, the better at it I'll be! So leave me a comment every so often, and ask me what I've done recently… maybe I'll have some great tales to tell, and pictures to share!