I know I'm not alone in my thoughts about Fabio. Not the Fabio from 25 years ago, who was passably hot, in his taught buffness and silky locks. Not my type, but I could see the appeal.
No, I'm talking about the Fabio of today, who is not taking getting older gracefully, and rather seems to be desperate to recapture the adoration of middle aged women. Instead, he is coming across as a creepy, flaccid, aging man with piggy eyes who can't get a grasp on the fact that his youth and glory days are behind him. Come on Fabio, really? Rolling around on a piano? Were those "babes" on either end there to prevent you from falling off and breaking a hip? You set my "ewwwwww" alarm off!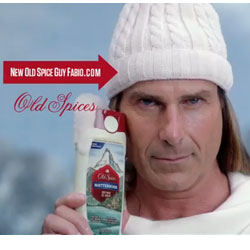 Nope, Fabio should accept that those days are gone. Old Spice should slap the Marketing Department on their collective heads, and bring back Isaiah Mustafa.
What were they thinking, replacing someone fresh and sexy (and funny) with someone so… not?
Don't get me wrong – I find many older men extremely sexy. A huge part of their appeal comes from within, and in a word, it's that they're confident! Being comfortable with who and what they are. Ricardo Montalban was sexy to his dying day. Also not my type (not in to Latino men, personally), but he was absolutely sexy. Sean Connery? Sexy. Pierce Brosnan? Sexy. Fabio? NOT sexy.