Broot, my Kiwi soul-sister from Craving a Little Perspective honoured me with this Versatile Blogger award a few days ago – thanks Broot!
Awards are a nice way to show folks you appreciate them, don't you think? Certainly made me smile, even though it comes with a little bit of work if you choose to accept it… which, of course, I did.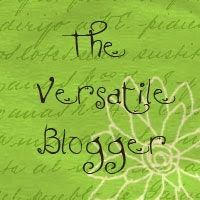 The Versatile Blogger Rules:
1. Thank the person who awarded you and link back to them in your post.
2. Tell 7 Random facts about yourself.
3. Pass the award on to 15 new found bloggers. (15, really?? Half the people I know won't accept it!)
4. Contact each blogger you want to pass the award on to and let them know you've done so, and let the giver of your award know you accept it… or not. :-)
Oh man. 7 things about me? What haven't I already shared with you?? Ok, lets see here. Hrm.
My best feature is my feet. It's all I have left that hasn't fallen, or changed shape.
I love to prune trees! A happy property is a tidy property. I once put a spike growing on a crack pine right through my hand as I was pruning it. Small victory for the tree.
I find it very difficult to give up control of any situation. That said, there are a couple people in my life that I gladly give that authority to, but you might be surprised who they are. (The Hubby is not usually one of them).
Even though I spend every waking hour literally surrounded by technology, I would like nothing better than to retire to a log cabin with few amenities and live life a great deal more simply. Well, maybe a beach house… ;)
Cleaning copper and silver is a huge pleasure for me. Seeing the dull, oxidized metal turn brilliant is so rewarding.
I am easily overwhelmed these days, and have been doing my best to reduce the amount of things I agree to take on in recent months. Stress is highly overrated!
I'm not a good sleeper – noises drive me batty. I can't process them into "white noise" or learn to ignore them. Did I mention that the Hubby snores?
Ah, now the fun part… who to tag, who to tag. I must admit there are not too many "new" bloggers I can choose from – I have so little time to wander around the Blogosphere and mingle these days! Most of the time they find me, and I really appreciate that, believe me!
Perhaps a mixture of known and new will do. And… fewer than 15 to be sure. I'm not going to tag anyone I know full well won't accept it, either. In no particular order, please enjoy the following Awardees!
You have to know there are dozens more bloggers I'd love to tag, but it would be futile at best – they won't play! Besides, I'm running short on time and have to get ready for rehearsal..!! Sure hope I remember to let my recipients know ;)