A couple times a month I work with a voice coach who is helping me get my range back (you'll recall I had some throat problems over the winter). He lives in the next town over, and works as the Musical Director out of a beautiful old church in the older part of town. We had a great "work out" (I suspect he's trying to turn me into a soprano… I'd rather leave that to ShaMoo though) yesterday, and I left on a – pardon the pun – high note.
The church backs on to a bit of an alleyway, with the paid parking lot directly behind. I park my van usually near the opening in the fence where you enter the lot on foot. So I left the church, with the door lock engaging behind me, and made my way across the alley way towards the parking lot. As I did so, I noticed 3 creepy looking punks leaning up against the building on the other side of the intersecting street. Alarm bells went off in my head as they suddenly went into motion, heading directly for me, but not making eye contact with me. The lead punk made a gesture with his hand, and his two companions entered the parking lot through the opening where I was headed, and he continued on towards me. In an instant, I just knew they were going to box me in as soon as I came to the opening in the fence. What the motive was, I have no clue. Probably a mugging, but who knows??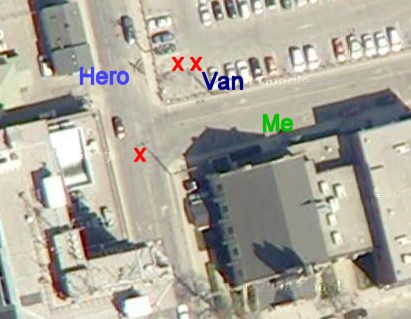 I remember thinking "CRAP. I'm in serious trouble here." I'm not one to panic, fortunately, but the adrenalin was racing through me instantly and my options were flashing through my mind as I slowed down and tried to come up with something. There wasn't enough time to backtrack to the church and get buzzed in through the security system.
From a young age I was always taught to carry my keys in my hand when I'm alone, with the ends of the keys poking through my fingers. The only other thing I had was my music bag, which, while heavy, wouldn't have made a very effective weapon.
I noticed that there was a road crew workman on the street slightly beyond the fence, although he was the only one I could see. He wasn't paying attention though. Still, he was better than nothing, and I knew I was in need of some immediate help. My remote for the van has a panic button, and I used it, setting off my van near the other two creeps who had already entered the parking lot.
The workman looked up, and immediately saw what was going down, probably because he'd noticed them hanging around and figured they were up to no good. He grabbed his shovel (he'd been filling a pot hole) and boomed out "HEY!" as he started towards us. It was enough, and the three punks veered and walked off in different directions, and whew, away from me. When I met the workman near the fence he took one look at my face, and asked me if I was ok. I thanked him (probably several times) for coming to the rescue. He said he'd take care of calling the police and letting them know what he'd seen.
I sat in my van with the doors locked for several minutes, shaking like a leaf.
Insanity. This happened in a small city, in a normally safe area, behind a church, AND at 2pm in the afternoon! I've walked by myself at night in downtown Toronto and never felt a speck of apprehension – how could this happen here? I'm sure it was an anomaly.
J-B insists that I speak to the voice coach and tell him what happened, and ask that from now on he should either walk me to my van after our session, or at least watch from the building as I leave. He's probably right (don't tell him I said that) but it sticks in my craw that I might need "looking after".
Thank you Road Crew Guy, and I'm sorry I didn't get your name so I could send a proper thank you via the public works department. I'm very, very lucky that you were there, and I know it. Scariest minute I've had in a long, long time.