A house is not a home without a dog. Or a cat. Preferably both.
I could do without the cichlids and their giant tank that takes up too much space. The land hermit crabs? Surprisingly not cuddly, and again, giant tank. Guinea pigs? Not crossing that bridge again, thanks, and that includes rodents of any configuration, no matter how cute. We gave Doodlette (Doodle-cake's oldest daughter) the humongoid habitat and accoutrement that went along with it, and it makes me happy as a clam that she's getting good use out of it with her fuzz balls. I briefly entertained the thought of getting a pair of ferrets, but I'm just so happy we didn't take that plunge. No, no more pocket pets for us.
Have I ever told you Sadie's story?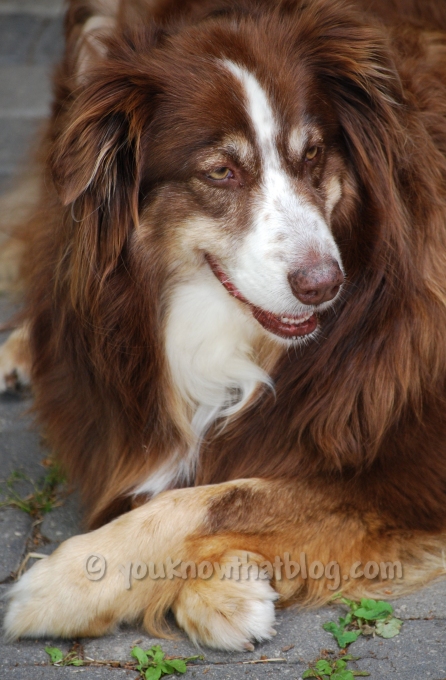 On a very sad Easter Monday in 2004, we had to have our beloved Sheltie, Dutchie, put to sleep after a lengthy illness. In all our years of marriage, I've seen my husband cry only once, and it was on that day as we held her in our arms and watched her drift away. Dutch was his dog, even though he'd bought the tiny puppy for my birthday just after we were married. Losing her broke his heart, and mine.
I was 4 months pregnant and still in shock with Wee One at the time, and full of all kinds of loopy hormones. I couldn't get used to not having a dog in the house. I felt a gaping hole in my heart, and in our family. The Hubby was adamant that he did not want another dog. At least… not right now. But, well, you know me. Secretly I began to research dog breeds. I agreed that getting another Sheltie just wasn't something we wanted to do. Dutchie was special, and replacing her was not only not an option, but not even possible.
This time I wanted a big dog. Not giant, but a good size. I wanted a dog that was solid. I researched a pile of them, already knowing a great deal about many breeds. I am partial to Bernese Mountain Dogs, so I did a little reading up on them. Gorgeous breed. Great with kids, but prone to disease and early death. Nope. However, as I was researching, I came across another dog with similar facial markings – it was a black-tri Australian Shepherd. Gorgeous, sturdy, great with kids, decent life span, etc. Bingo! I also was very careful to read the cautions: This is a working breed, and must be kept exercised and mentally stimulated, or they will find something else to do. "You probably won't appreciate what a bored Aussie will come up with to entertain itself", was the general consensus. Well, we live on 3.5 acres, and I work from my home office so I can be home with my kids. Not an issue.
OH, but what am I thinking? I asked myself in a moment of clarity… which happened only very occasionally during my pregnancy… I'm pregnant, and a puppy would be too much to handle with a new baby. Not to mention a full time business (as a business owner, you can't really take time off, you know?) and of course, the Teen, who at that time was almost 10 years old, and into karate, guitar, and other normal kid stuff.
Hrm. I went into problem-solving mode. This is a mode I spend a lot of time in, by the way. I'm very good at working things out, in almost all situations.
I decided to contact a rescue organization (crap site, good people), and see if they had any dogs that needed a home, that might be a good fit with our family. I was thinking that it would take some time, and by the time a suitable dog came available, I would have talked the Hubby into it, and the pain from losing Dutchie would be less raw.
Well… in the blink of an eye, I had a set of rescue volunteers sitting at my kitchen table (one of which was K9 Crazy). One of them brought her own Australian Shepherd, Torque, to see how we'd deal with him, and of course assess our living arrangements and family. I will admit now that Torque made me wonder if an Aussie would be the right fit for us – he's a lively boy, and spent the entire visit running through my house dropping wads of dog hair on every available surface. But he was a lovely boy. A blue merle colouration, wonderful personality, and he was great with the (pre)Teen. Yeah, I could handle an Aussie. It seemed like only seconds later, Sadie was placed in our home by the same Aussie owner, who had been fostering her.
From day one she was immediately comfortable with our family. Her previous 4 homes and any negative experiences she'd had apparently hadn't dampened her spirits, and we were thrilled that she seemed to love everyone she met. Especially men. Sadie decided her role in our pack was protector, and she has taken it seriously ever since. My child (the Teen), and then the baby (Wee One) became hers. As soon as Wee One was born, Sadie put herself between the baby and anyone who wasn't a member of our immediate family, and showed distress when I allowed an "outsider" to hold her, until I took possession of her again. She is always by her side.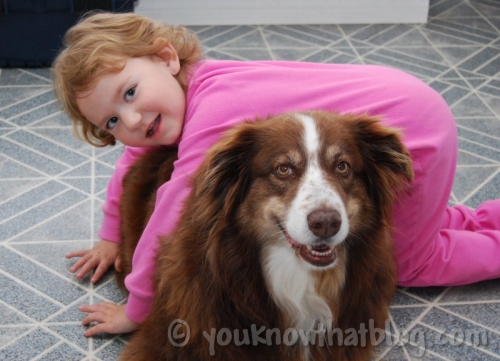 Sadie came with some baggage in the form of extreme obesity – she weighed 85lbs when we got her (almost double the normal weight of an Aussie), and she was already slimmer from being in experienced and capable foster care for a while. This gal was so big she resembled a coffee table. She snored and laboured to breathe something fierce. Our first order of business was to get the weight off of her, and all that took was attention and exercise.
Unfortunately, with the weight loss came the discovery that she was incontinent. How did we discover this, you ask? One day as I came out of my office in bare feet, I stepped onto a puddle on the slick white tile. My feet flew out from under me, and I landed hard on my left side, damaging the nerves in my hip and bruising myself from shoulder to knee. Wee One was fine, thankfully, but the fall made the remainder of my pregnancy hell on wheels. But that is another story.
After witnessing many many more puddles, the vet determined that she was generally incontinent (not spay incontinent as is common in spayed females) and she was put on pricey medication that she'll be on for the rest of her life.
Sadie will be 10 on the birthday we chose for her – January 1st. She has a tattoo in her ear with her month and year of birth, and her initials OSJ, which we were told stands for "Opal Sadie Jane". She appears to be a very well bred Aussie, although large for her breed, she has beautiful shape, and stunning colouring. She comes from New York State, although "where" exactly remains a mystery. As a puppy, she was rescued from her original owner and placed with a family who couldn't handle her. She then went to another family, where she would have stayed, except the couple was not equipped to handle an Aussie, and after the husband had a back injury, they decided to give her up because the wife was unable to handle her at all. A young Aussie is a bundle of energy, and not ideal for just anyone. Apparently she used to counter-surf and chewed up every piece of Tupperware she could get her teeth on. She spent time in the pound in NY state, and was adopted by an apartment dweller who never walked her, and fed her the same crap food that her other small dog was fed. This is how she became obese. That owner had problems with her too, naturally, and ended up chaining her up in a tiny area for days on end with no exercise. She has blunted teeth from chewing on that chain in an effort to get free. The Canadian rescue organization brought her across the border, and she was placed in foster care for a while with our friend the rescuer. Then, after 4 years of being briefly loved, horribly neglected, and abandoned repeatedly, she came to us.
It doesn't matter what happens now, she is a part of our family, and not going anywhere for the remainder of her life. No, she wasn't abused physically, but can you imagine how this beautiful dog felt when her families – all of them – dumped her, over and over again? That she's not a neurotic basket case is a mystery, and a blessing. I guess it only goes to show that she was meant to be with us, right?