The Teen and I had a Mother-Daughter evening out, just the two of us, in celebration (ok, I was celebrating, she wasn't) her return to high school tomorrow.
Sing it with me now:
It's the Most WONDERFUL Time… of the year!!!
Anyway. Because she was away almost the whole summer, she had not yet seen the latest Harry Potter flick, so I sat through it again. I think I enjoyed it more the second time, because I wasn't expecting anything that wasn't going to happen. I was a bit disappointed the first time I saw it, because the book read in a more exciting manner than the movie was able to portray. The Teen enjoyed it though, and I enjoyed watching her have "Ah HA!" moments as key points were made clear.
On the way out, I fulfilled the Hubby's only request for our evening out without him: Popcorn. The man is addicted to movie theatre popcorn.
The only question was: How to get a very full bag of popcorn home without dumping it inside my vehicle?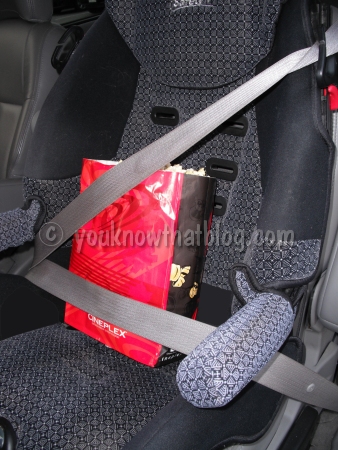 Voilà!
Ermmm… that reminds me, I need to wash Wee One's car seat cover.
After, we stopped at Montana's (Wee One calls this place "Hannah Montana's") for dinner. Popcorn baby waited in the car.