I've been quiet this week due to my father being in the hospital with chest pains. He's home now, and we're waiting on some tests to come back and a visit to his cardiologist next week. In all likelihood, he has a blocked artery, and will need either an angiogram/stents, or – and I really hope we can avoid this – another bypass. We've been through this before, and I'm not panicking about it, although I am extremely close to my dad, and would be destroyed if anything happened to him. He had a triple bypass about 17 years ago due to blockages (his heart is perfect though, it's an artery thing) and a couple years ago he had stents placed when one artery weakened and threatened to collapse. He's a strong man, and will get past this.
Anyway, I thought I'd share a fun thing that happened this week, in the middle of all this. As my husband was spending quality time on the tractor, cutting the grass, he spied this little fellow: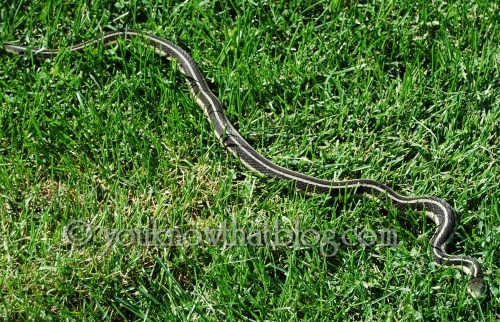 This is a Northern Ribbon Snake – isn't he cute?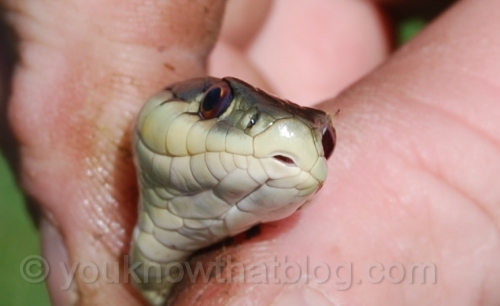 Hubbie knew that Wee One had never had the opportunity to touch a snake before, so he pulled a Steve Irwin and leapt from his tractor, grabbing him and trotting him up to the house to see us. I'm pretty sure he wouldn't have done it if it had been a poisonous snake, and there are none around these parts ;)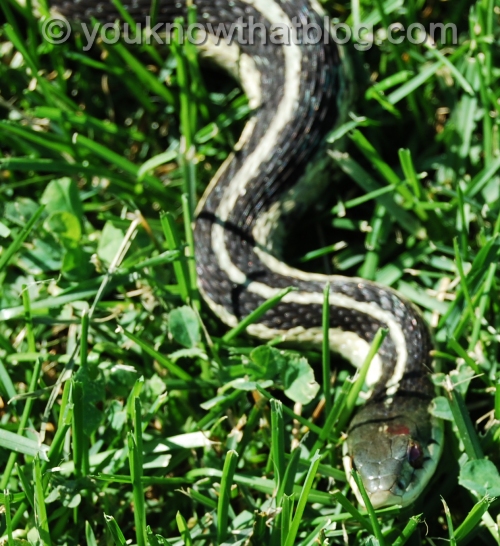 Wee One, being a timid soul, was completely freaked out a little hesitant to go near it, but as she saw her daddy and I handling him and saying how cute he was, she sucked it up and came near. The almost instant transformation from hysteria nervousness to curiosity was wonderful to see!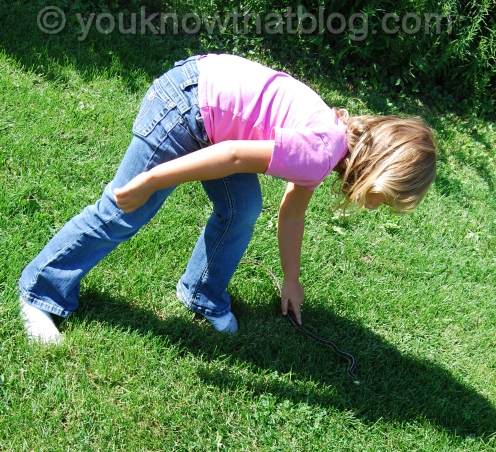 She was suddenly cooing over her new little friend, remarking on how shiny he was, and how neat his skin felt to her – she even touched his head! My shy little sweetheart – it's so wonderful to see her blossom and experience new things, overcoming the fear.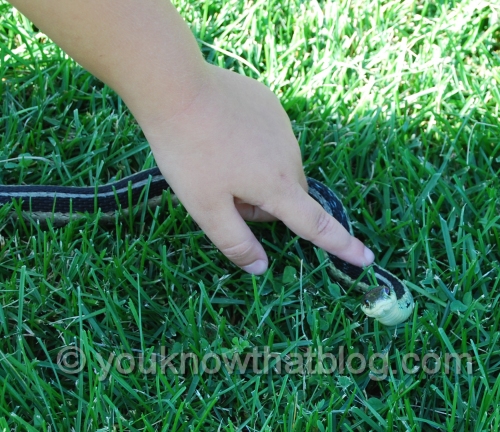 Of course, Nofeet (so named because he looks so much like the snake from the show "Little Bear") had to get the last laugh, and make a mad dash right towards Wee One as he bid us farewell, which made her shriek in terror and run like the hounds of hell were behind her jump back in surprise. I didn't get a shot of that because I was too busy redirecting his flight path.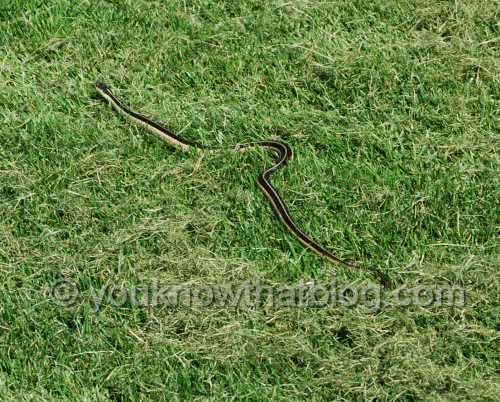 Bye, Nofeet! See you around.