As you know, my birthday anniversary was last week, and one of the gifts I received from my folks was tickets to see the Jersey Boys in Toronto, on July 28th. We were very much looking forward to a great meal at Moxie's (our favourite chain restaurant) and an amazing show.
Moxie's was… disappointing. I don't know if the place was having an off day, or if that particular location is just not maintained in the excellent Moxie's standard (I suspect management issues), but we were very disappointed indeed. It occurs to me that it may only be busy due to the chain's normally excellent reputation, and the Toronto Centre for the Performing Arts directly behind it, where the Jersey Boys are enjoying their year-long, packed-house-every-night run. Certainly I'd think twice about visiting again, after a burned appetizer, a botched and inedible steak (that I had been SO looking forward to all week), and a few other annoyances.
The Jersey Boys made up for our sour start to the evening though – what a great show!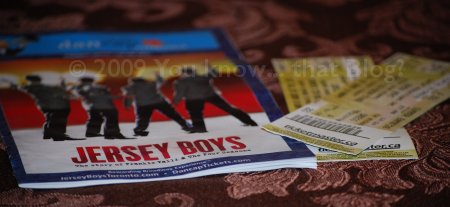 We had fabulous seats – Dress circle (Balcony) dead center, front row. We were able to see every square inch of the stage, and didn't have to crane our necks, unlike the scantily clad, bimbo-esque group of blondes in the front row who were attempting (and failing) to be a major distraction for the cast.
Oakville's Jeff Madden was a fabulous choice as Frankie Valli, belting out songs over a 2½ octave range – as a singer I can tell you that is no easy task – flawlessly and every bit as good as the man he portrays 6 shows per week. The entire cast did a sterling job.
This is no show to bring kids to – the "F bomb" was dropped constantly in true Jersey fashion! It was raw, violent, and a pretty accurate account of the 4 so-called blue-collar (more like criminal) boys' rise to fame. The audience laughed, cried, and was thoroughly entertained start to finish.
Two thumbs up – I highly recommend seeing Jersey Boys!