Doodle Cakes has outdone herself yet again – check out the cake she designed for her daughter's 12th birthday! (I modified to take her daughter's name off the board, because that's how I roll, folks…)
Doodle's daughter – whom shall henceforth be known as Doodlette – has 2 darling guinea pigs, and is an artist in the making. This cake is a fantastic mom's homage to her eldest baby girl.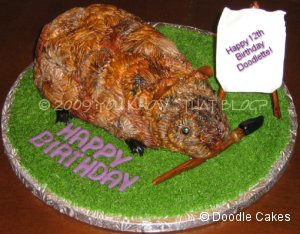 If you're in the mood to check out some amazing cakes, look her up on Facebook – You can find her here:
http://www.facebook.com/group.php?gid=77751511056
P.S. Happy Birthday, Doodlette! Big hugs!