Welcome to "Silly Haiku Wednesday!"
The basics:
Haiku is simple! It is 3 non-rhyming lines of 5, 7, and 5 syllables respectively (a great way to use your fingers!)
This week's theme is:

New Beginnings
My submission for this week:
Start the year anew
Fill it with goodness. Believe*.
Live, love, laugh… and sing.

*Believe is a song that we did this past Christmas holiday season that means a lot to my quartet. We sang it last night Monday night again, as a way to wrap up a very successful introduction to our new music.
Next week's theme: The Road
Feel free to continue challenging your own visitors – we're having far too much fun not to share!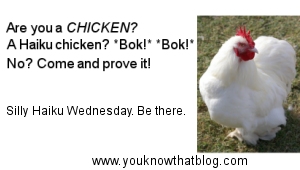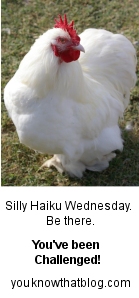 Note: Nothing makes me happier than to see new people getting "hooked on haiku"! Keep it going to make it to the Hooked on Haiku List
To participate in this week's event, please use the following code in your post on your own blog (if you don't have a blog, post your Haiku as a comment):