Welcome to "Silly Haiku Wednesday!"
The basics:
Haiku is simple! It is 3 non-rhyming lines of 5, 7, and 5 syllables respectively (a great way to use your fingers!)
This week's theme is:

Aftermath
My submission for this week:
Melancholy Smiles
Everything a paler shade
Worth it? Yes, it was.

Next week's theme: New Beginnings
Feel free to continue challenging your own visitors – we're having far too much fun not to share!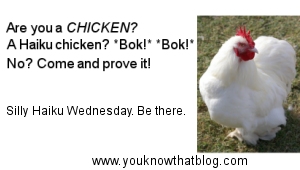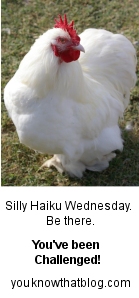 Note: Nothing makes me happier than to see new people getting "hooked on haiku"! Keep it going to make it to the Hooked on Haiku List
To participate in this week's event, please use the following code in your post on your own blog (if you don't have a blog, post your Haiku as a comment):