Welcome to "Silly Haiku Wednesday!"
The basics:
Haiku is simple! It is 3 non-rhyming lines of 5, 7, and 5 syllables respectively (a great way to use your fingers!)
This week's theme is:

It's a Haiku CHALLENGE! …challenge..! …challenge..!
My submission for this week:

Where is your haiku?
Is you is, or is you ain't…
A haiku chicken?

This week's haiku is a challenge for your readers to join us! I see so many comments on your blogs after you've posted your fabulous haikus, and it makes me wonder why these same folks are not doing their own – they seem so into it! So grab one of these, and post it as your Haiku Challenge …along with your challenge haiku of course! (make sure you link it back here!). Maybe your readers will come out of the closet and finally join us.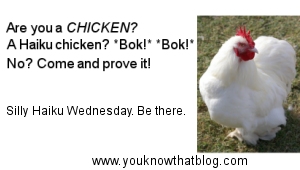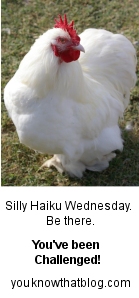 Ask your friends to tell me in a comment that you referred them. The person who brings in the most new haiku-ers will guest-post on my blog on December 20th :) NEW Haiku-ers are welcome to join in the challenge too!
Next week's theme: Spirit of Giving (Specifically, what you're doing to share the joy this season)
Note: Nothing makes me happier than to see new people getting "hooked on haiku"! Keep it going to make it to the Hooked on Haiku List
To participate in this week's event, please use the following code in your post on your own blog: