*Apologies if you couldn't get to me earlier today, the server needed to be rebooted for maintenance.
This is today's submission for Mosaic Monday at Dear Little Red House.
Today I'm also going to be linking to Show and Tell Monday, who runs a fabulous Camera Tutorial every week – whether you know what you're doing or not, it's worth checking out: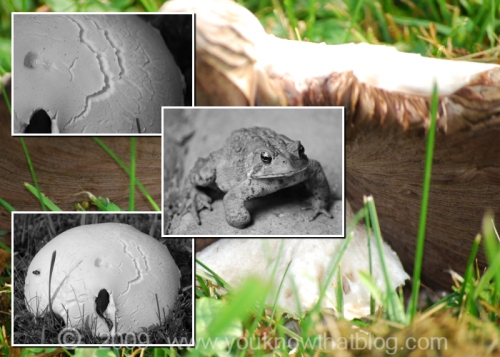 Thought I'd do something a little simple this week – I wanted the shot in the background to show, and these 3 shots were my favourites. They were taken this past week after yet another bout of rain. There were 3 of these mushrooms, and they were ginormous! Bigger than a soccer ball.
The little fellow had his picture taken the next day. He doesn't appear too upset about his missing foot – he got a quick sniff and kiss from Sadie (darn it, I missed that shot!) and then was off at full throttle when Wee One tried to grab him to test his princeliness.