Earlier today I read an article by Evan Hurst of Truth Wins Out (TWO). In it, he pokes fun at the tiny group who call themselves the "One Million Moms". We've heard about these dodos before – they boycotted JC Penny when they opened their arms to Ellen Degeneres, an openly gay entertainer, as a spokesperson. I don't know about you, but I had never shopped at JC Penny before that, and it made me want to cross the border and drop some of my hard earned cash at their stores. And I did. And I still do.
I don't know if you've heard of their latest "up in arms with outrage" campaign, but it's over this ad, which I have no problem showing you on my site: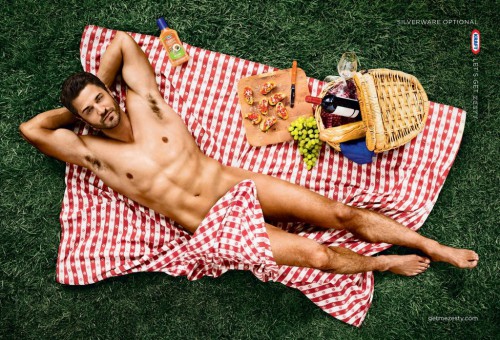 Oooh la la, Kraft!
But really – what's the problem here? It's a very attractive man who is covered in the right spot. He's human, and has a very acceptable human body. Very acceptable. Would I put my own body on display like that? Well, no, but then again, no one wants to see that.
Anyhoo, the silly moms have a form on their website that you can use to contact Kraft about their ad (click on the link I gave you above, and look for the form link on the right side of the page). The greatest thing about this form is that you can modify the words to it… so I did.
Subject: Using the "One Million Moms" stupidity campaign email form. Thanks, Kraft!
Date: 13 Jun 2013 08:36:35 -0500
From: contact@afa.net
Reply-To: jenn@
To: ******@kraft.com, ******@kraft.com, ******@kraft.com

As a parent who has absolutely NOTHING TO DO with the idiot group "OneMillionMoms.com", I am totally ok with your company's decision to feature a nude model in your "Let's Get Zesty" ad campaign. Your decision is not at all disrespectful to me personally, or to my family, who are also humans, and not offended by the sight of another human. If Kraft continues to use such acceptable taste and appropriate marketing choices, I will make a conscious effort to shop for your products without any problem.

Your current ad is not soft porn, and I didn't find it at all offensive. It is not degrading and harmful to anyone with a fully functional brain. Your 2-page ad resembles a centerfold! Bravo!

Kraft is not pushing away real loyal, conservative customers with this new ad campaign. I will absolutely buy Kraft dressings and any of your products without a second thought. The consumers you are attempting to attract – the incredibly small minority of fussy pants religious nuts called the "One Million Moms" (who are now down to a laughably small, small percentage of 1 million) – are the very ones you are driving away [I should have worded that a little better, but oh well… I wanted to stay as close to their verbiage as possible]. Woot! Good job! Who wants people like that around anyway? Not me. Who will want Kraft products in their fridge or pantry if this humanity is what they represent? I will. Currently, it is not at all embarrassing to be associated with Kraft by owning their products.

As a consumer, I urge you to continue to use attractive models to sell your products. Kraft is better than the 1 Million Morons… sorry, "Moms"… and doesn't need to stoop so low as to allow them to tell you how to sell products. This disgusting advertising lunacy campaign by the OMM needs to be discontinued immediately. But it probably won't. Rather like a mosquito bite, aren't they? Itchy, but largely forgettable.

I look forward to hearing from you regarding my concern. Keep up the good work!

Sincerely,

Jenn
I hope someone at Kraft reads my email and gets a smile from it. If they reply, which I'm not expecting, I'll share it with you.