Welcome to "Sensational Haiku Wednesday!"
The basics:
Haiku is simple! It is 3 non-rhyming lines of 5, 7, and 5 syllables respectively (a great way to use your fingers!)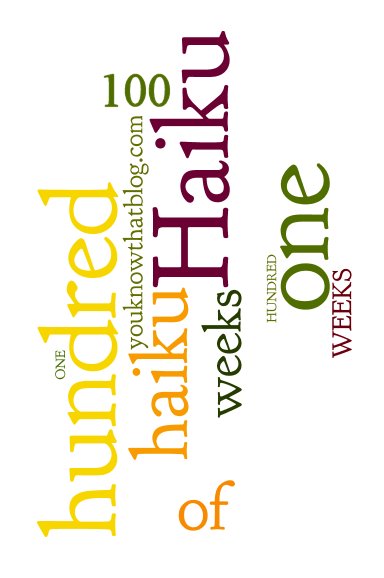 This week's theme is:

Anniversary
Anniversary
Thank you all for being here
You have made my day!

How can I explain
My haiku chums give me joy
Especially… you!

One HUNDRED haiku
Many creative voices
Equal one great Meme!

Just one bittersweet…
No longer celebrated
Always in my heart.

Thank you, everyone, for being here to celebrate our 100th week of Haiku! We would never have gotten this far without you! Here's to hundreds of weeks more of Sensational Haiku! –Cheers!
Next week's theme:
Future
---
Note: Nothing makes me happier than to see new people getting "hooked on haiku"! Keep it going to make it to the Hooked on Haiku List (if you're not listed and should be, please let me know!)
To participate in this week's event, please use the following code in your post on your own blog (if you don't have a blog, post your Haiku as a comment):