Not your history! Mine! ;)
A year ago today, four people met in a kitchen, unsure of how to get things started. They knew what they wanted, but didn't really know how they were going to do it. They had no backup, and only a few sheets of paper to go by. It was a rocky start, and after waffling around a little bit, they all smiled at each other, but silently wondered if they were doing the right thing.
This evening, those same people will be dining together, celebrating their first "anniversary".
What a difference a year makes! Soon after we came together as Main Street we welcomed Walt aboard, first only as a part time accompanist, and more recently as a fully-fledged part of the group. Walt also has a wonderful Baritone voice and now sings with us when we do a cappella (unaccompanied) songs, which is awesome. Guess what? That means we're no longer a quartet! Now we just call ourselves a group and be done with it. We will always have our original "Core Four" who started things though, and of course that is what we're celebrating tonight.
What else… Well, we have been to the recording studio not once, but twice! The first time was so exciting for us; a real dream come true! We have performed in concerts, benefits, been hired for street festivals and smaller events, and have more of the same already booked for the second half of this year! We have been honoured to entertain people young and old. We have worked hard to develop an amazingly large, diverse music library. Most importantly though, we have had a great time together, and formed a true family and a bond that none of us could have foreseen a year ago.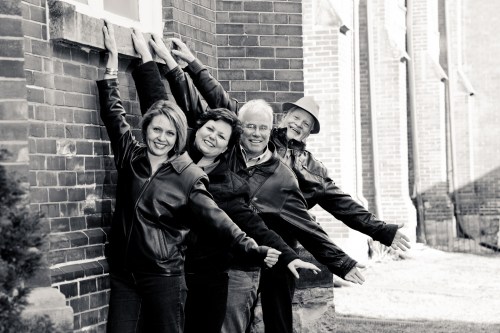 Happy Anniversary to the Core Four, and my best friends, ShaMoo, Knarf, and J-B. I love you guys more than I can express. Here's to many more years, and many many adventures together!