Dunno what it is about cooking every night, but I just hate it. I enjoy cooking for a special occasion, and baking is fun, mostly, but cooking every night is simply annoying.
Anyway… late this afternoon I was sitting here working, when I was interrupted by a voice at my elbow.
"Mom. Mom. Mom. Mommy. Mommmmm. Mooooooommmmm. Mommymommymommymommymommy!!!!!"
It belonged to Wee One. "I'm hungry again!" she says, when I turned to press our noses together. OI! What is it about these kids that they expect me to keep feeding them?! What is she, four? Oh. Right. But then I looked at the clock, and it was just about 5pm. Oopsy.
Alrighty then! What to have… what to have. Did I mention I hate cooking?
Ok, spaghetti is quick… nope, no spaghetti in the pantry. Hrm. I know – penne with a quick meat sauce! Nope, no penne, no ground beef. I was sure I had both… better write them on the board. Ok, lets see what we do have then. Ok, well, I have a package of Smart Pasta rigatoni. Check. Pasta sauce… check. Nothing fancy, but I always add stuff anyway. Ok. Hrm. No meat. I really have to go grocery shopping! Oh wait, I have a coil of polish sausage in the freezer! Ohh, and I have cheese! Rock on! (geez I hope this doesn't suck).
It didn't suck! I got a thumbs up from every thumb at the table! Right on! Mom SCORES!
Here's what I threw together prepared: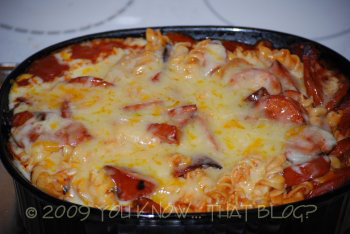 [Note: I could give you exact measurements, but I'd be lying. I rarely measure anything… I will never make it into a cookbook, but I'm ok with that.]
– 1 pkg Smart Pasta Rigatoni
– 1½-2 cups Sharp cheddar, grated
– 1 cup mozzarella cheese, grated
– a dash of olive oil
– 1 onion, chopped
– 2 or 3 garlic buds chopped (or more, your choice)
– Half a coil of polish sausage (about 10-12″) cut into medallions or whatever shape you prefer. You could do more, but only if you have a BIG casserole dish. Half was good for me.
– 1 can of basic pasta sauce
– Oregano, Marjoram and Sage – a pinch of this, a dash of that…
Set your oven to 350°F
Bring a large pot of lightly salted water to a boil. Add pasta and cook for 8 to 10 minutes or until al dente; drain but don't rinse. Pour it into the casserole.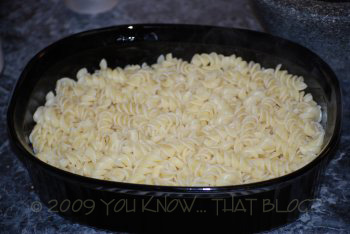 Toss with the cheddar cheese.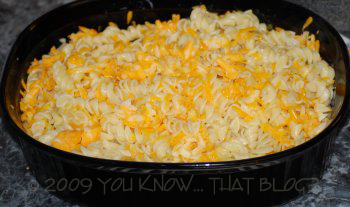 While pasta is boiling, do the sizzle thing with your olive oil, onion and garlic. When it's soft, add your polish sausage and brown it up a bit.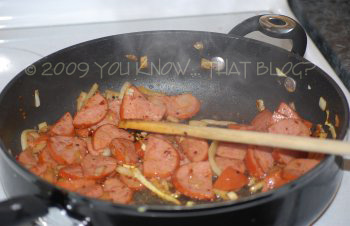 Add your pasta sauce and spices.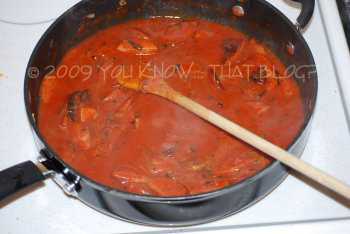 Simmer a few minutes, then pour over the pasta in the casserole. Carefully mix together – it's probably pretty full now! Cover and bake for 15 mins.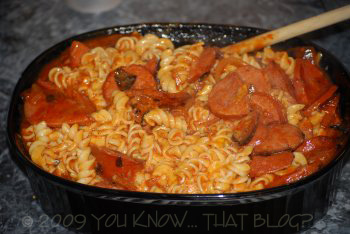 I put the mozzarella on just after it came out of the oven and allowed it to melt, but you could put it on at any point, and cook uncovered if you like it browned. My kids don't, so I did it at the last minute.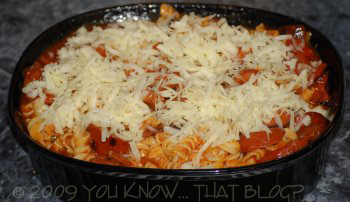 It's not pretty, but it tasted pretty wonderful!